In India, agriculture is the primary source of income for a large percentage of the population, especially in rural areas. However, farmers often face challenges in accessing financial services and insurance, which can help mitigate the risks associated with agriculture, such as crop failures, pests, and adverse weather conditions. To address this issue, DHAN Foundation, a non-profit organization based in India, has been working to provide financial and insurance services to small farmers in rural areas.
An overview of DHAN Foundation's Approach
DHAN Foundation has developed a unique approach that combines community-based finance, capacity building, and technology to create a sustainable and scalable model for providing financial services to rural communities. One of their key initiatives is the "Farmers' Friend" program, which provides loans to small farmers for agricultural inputs such as seeds, fertilizers, and tools. DHAN Foundation also offers a parametric insurance solution, which provides farmers with coverage against weather-related risks such as drought, floods, and cyclones.
IBISA aims to bring peace of mind to climate vulnerable farmers. With resilient farmers, we build resilient food systems! 
IBISA commits to the SDG's 1, 2, 3, 5, 8, and 13. IBISA quantifies the impact of specific climate risks and builds tailor-made parametric insurance solutions to manage them.
The empowerment and autonomy of women and the improvement of their political, social, economic and health status is a highly important end in itself. In addition, it is essential for the achievement of sustainable development in India's rural communities.
Work with DHAN Foundation over the years
From the beginning DHAN stressed the need to make the insurance accessible to all smallholder farmers, whether male or female, owner of land or tenant of land.
To answer to this request IBISA developed an Android app that allowed the DHAN staff to go to the farmers' field, take the GPS location of this field and register the farmer on the spot as the policyholder.

During the COVID lock-down these in-person visits were no longer allowed and IBISA designed a methodology where the DHAN federations kept in touch with the farmers through phone, WhatsApp, and SMS and registered the policyholders in an Excel spreadsheet that was shared with the insurer.
The negotiations with the Indian insurers to work with these summary- information- lists instead of the usual individual  registration, including proof of land ownership, was accomplished by IBISA, thanks to its strong connections with local insurers.
The product evolved from NDVI -> to lack of rain -> to excess of rain and -> a combination of these two risks.
The NDVI product turned out to be very complicated to explain to the farmers and that created doubts in their minds during their considerations to renew the coverage for the next season.
IBISA's team incorporated the feedback from each iteration of the product design to bring simplicity and effectiveness at the core of our product.
The result, we were able to deliver lack of rain, and excess rain products that were more straightforward and easier to understand by farmers. 
IBISA designed a Backtest tool and Platform with which the past events and return frequency is made visible. Based on the satellite imagery and actuarial tools IBISA designed, structured, and priced simple and efficient products. These are now distributed by the federations from DHAN to the farmers. DHAN People Mutuals underwrites part of the risk and another part is transferred to Indian insurers.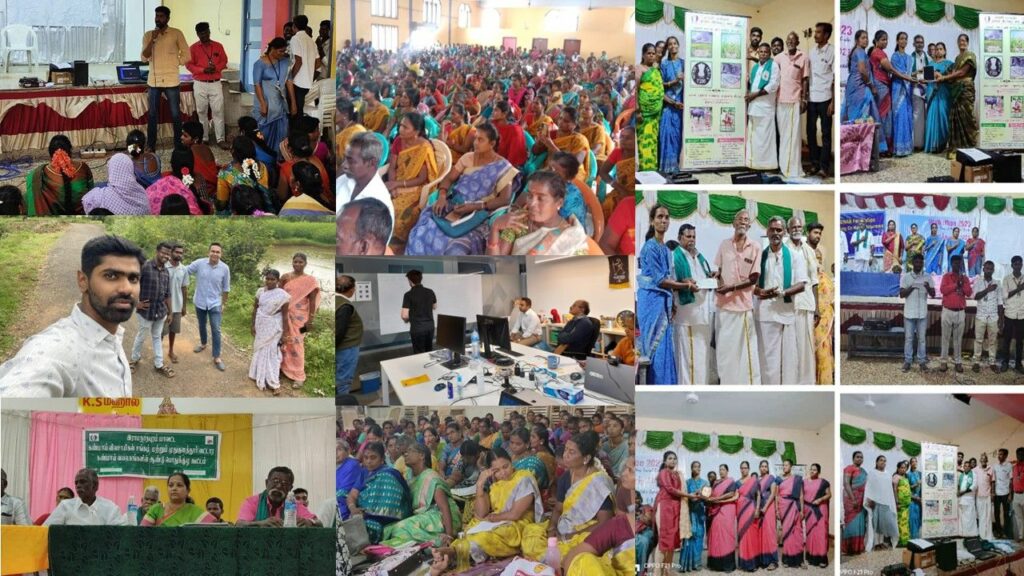 Feedback from DHAN and associated farmers
Farmers mentioned that they were happy to receive the payouts much faster than traditional insurance from the government (PMFBY).
Furthermore, they stated that they were happy that this insurance is something done by their entire community (organized solidarity).

Women stressed the importance of the fact that everybody who does farming is allowed to participate under this insurance coverage, as women quite often do not have land ownership and work on a  rented land. (equitable and gender equality). 

By mid 2024, we foresee to scale the weather risk insurance to the farmers based in 6 different states of India and reaching to over 100k farmers.
As the number of farmers expands, we are also helping DHAN by designing an onboarding platform for policy management to enhance the operational efficiency.
We are also looking to add more coverages in the seasons to come based on the farmer demand.